Ready To Get Rid of Ulnar Tunnel Syndrome -
Once And For All?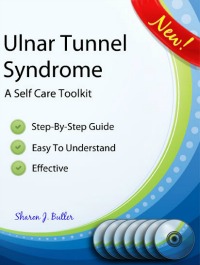 The Ulnar Tunnel Syndrome
Self Care Toolkit
You want a permanent solution for your pain. And you want that solution to be safe, fast and effective. Here's how the Ulnar Tunnel Syndrome Self Care Toolkit will help you reach your goals.

• 17 Therapeutic Exercises
Fully Tested

The stretches and exercises in your Self Care Toolkit have been developed over 22 years of working with injured people. I have chosen the stretches and exercises that work best for Ulnar Tunnel Syndrome so your recovery is as quick as possible.

Highly Effective

Every exercise is designed to target specific areas of your body most involved in your injury. Following the program, injured muscles and soft tissues will be encouraged to release in the exact order needed to get the fastest results.

Progressive

As your body changes and repairs itself, the stretches presented in your program will change as well. After each layer releases, the next release is encouraged by way of new stretches, or new additions to stretches that you are already doing in your program.

Clearly Illustrated

Easy to understand drawings show you the correct stretch positions that will yield the quickest, most effective results.

Complete Instruction

Each exercise is clearly explained, making it easy to practice correctly.

• Fast Results
Learn How To Locate Hidden Sources Of Pain And Injury

Your muscles and soft tissues have many complex layers. Often, sources of strain or adhesion will remain "hidden" in deeper layers. I'll show you how to find and release all those hidden spots so your recovery is completed in the shortest amount of time possible.

How To Control Stretch Intensity For Faster Results

Super-effective stretching requires that you learn to control the speed of release, much like learning how to drive your car. Sometimes it's smart to go faster, and sometimes slower is the safest option. I'll show you how to easily master this skill so you get great results - FAST!

How To Create Stretches That Are Customized To Your Body

Your body and your injury are unique to you. Your stretching routine should reflect that uniqueness. Starting with the core stretches in your Ulnar Tunnel Syndrome Toolkit, I'll show you how to make tiny changes that will yield huge benefits by helping you create custom stretches that best suit your body.

How To Use Rest To Recover Faster

I've discovered that resting in a specific way as you are practicing your stretches will make your stretches work much better and faster. I'll show you how and when to add this rest cycle so you get the best possible results from your stretching program.
• Living With Your Injury
While you are in the process of eliminating your injury, you still have a lot of living to do. I'll give you helpful tips to make your life more livable during recovery.

Reducing Stress

The stress of an injury can be pretty hard to deal with at times. You'll learn useful tips to reduce your stress and put it all into perspective.

How To Cope With Pain In Your Daily Life

There's still work to do, laundry piling up, and your next meal to prepare. I'll show you simple tips to get it all done without injuring yourself further.

How To Maximize The Speed Of Your Recovery

There are lots of ways that you can recover faster. Taking advantage of several of them can shorten your recovery time considerably. I'll share all my favorites with you.

How Fear Affects Recovery

It's natural to be concerned any time you have an injury. But all that concern or fear can cause you to unconsciously change how you naturally move, which can lead to more pain. I'll teach you what you need to know to avoid the fear - pain- injury roller coaster.


Rave Reviews From Satisfied Customers
"Your program was exactly what I have been looking for. I have thoroughly read the first chapter, done the stretches and am listening to the first audio section. 
The stretches are a little different from anything I have seen before, which is cool. I don't know if it is just psychosomatic or what, but I feel a lot of difference in my pinky already."
Thanks, 
Paul Tauterouff , Guitarist
---
"Sharon, your program has not only helped me physically but has educated me as well in the process.  And isn't it funny how having an RSI can also lead one to make changes that deep down we always wanted to make, but never would have unless forced to--like slowing down to enjoy life a little.  You know what I mean?  Guess that is 'the good' that comes with the bad."
- K. Ian
---
"I am really going to enjoy putting into practice everything that your program is teaching me. I really feel like I know exactly what I need to do and it's just a question of doing it consistently! Thank you Sharon, you really are wonderful and a great source of inspiration to me."
- Jane Piot
---
"Cheaper, faster and much easier than surgery or doctor's appts & pills. As an ex-massage therapist turned geek, I was thrilled to find your Ulnar Tunnel program. I had studied my old charts and used ice (which also helps) and cross-fiber massage, but was unable to get to the really deep muscles effectively. This program lists all the exercises, and conveniently proscribes various "sets" of exercises for specific trouble spots (e.g. tingling/numbness in ring finger and pinkie) for immediate (within 24 hrs) relief. I highly recommend it as it will dramatically lessen sick days, disability, etc in workers."
- A Satisfied Customer
---
"It's more than fair to say that you have changed my life, Sharon. You saved my life. I don't know where I would be if I hadn't found your programs. 
I'll never stop talking you up!"
- Lisagail Zeitlin

• Expert Coaching
"I listened to your first audio - candidly, it was brilliant - extremely educational and it alone is worth the cost of the Toolkit bundle.  I look forward to reading the book and listening to the balance of the audios. Now, as a heavy coffee drinker who doesn't drink a lot of water - I know where to start."
Best, Brian Robbins, NY, NY
I am always searching for more ways to help sufferers of ulnar tunnel injuries. 

With over 30 years of studying these injuries, I've built up a body of knowledge about healing and recovery that is quite uncommon... A treasure chest of simple, easy to understand, logical information that makes recovery easier. Knowing this "insider" information is like having the final piece of the puzzle - the master file on how to recover from ulnar nerve pain.

Your Ulnar Tunnel Syndrome Self Care Toolkit includes 3.75 hours of Coaching to help you recover, delivered in MP3 format. Your Coaching files include:


How a special breathing technique can help find hidden sources of pain and help you let them go.


How to deal with scar tissue.


How surgery or deep wounds could change the course of the recovery process and what to do about it.


How to understand the "language" of your pain and what it is trying to tell you.


How to recognize and release unconscious holding patterns.


How to create new exercises and stretches that match the exact needs of your body.


How to enjoy a recovery that truly lasts.


And much, much more.


• New Toolkit Bonus!
When you are recovering from an injury using stretches, it's critical that you feel what's happening in your body so you can make adjustments.
But most of us do not spend a great deal of time focusing on the sensations from our bodies.
We are too busy doing other things.
By special arrangement with the author, we have added the
"Welcome to Earth: Scanning Your Body" Meditation Audio
This 19 Minute Audio will guide you on a relaxing journey through your body, helping you to become more aware of sensations.
These sensations are the body's way of telling you what's working and what's not working.
You will feel refreshed, de-stressed and more in touch with your body than ever before. And now it's included FREE OF CHARGE!
| | |
| --- | --- |
| Purchase a copy of the Self Care Toolkit. Open it, try it, test it, feel what it does for your body. Kick the tires on it for a full 60 days. If at the end of that time you are not happy with the results you have achieved, let me know and I will gladly refund your full purchase price, NO questions asked. You have nothing to lose! | |
Where Will You Be In The Coming Weeks?

Will you still be drowning in the details of cobbling together a recovery program from pieces and "experts" you find here and there? Will you still be spending hours at appointments, loads of money on an endless list of remedies, taking time off work because your arms hurt?

Or, will you be back in your life, doing the things that you love, making your living with peace of mind?

The choice is yours.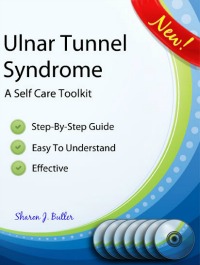 The Ulnar Tunnel Syndrome Self Care Toolkit: 


83 Page Ulnar Tunnel Syndrome Self Care Program E-Book


17 Targeted Stretches For Ulnar Tunnel Syndrome


33 Illustrations


Complete instructions divided into 6 sections to be completed at your own pace

- Plus -


3.75 hours of Coaching via Audio MP3 Recording (A $497 value)


"Welcome to Earth: Scanning Your Body" Meditation Audio (MP3 Format)


FREE Upgrades For LIFE!
Regular Price = $47.00
Your Special Discount Price = $37.00


IMPORTANT! Immediately after purchase, you will be sent an email containing the current password and the download links for your purchase.
I hope you enjoy great success using the Ulnar Tunnel Syndrome Self Care Toolkit!
All the best,



Sharon Butler
138 Springside Rd, Asheville, NC 28803 USA
sharon[at]selfcare4rsi.com

P.S. You are one click away from freedom from pain. Try a program for 60 days - risk free.

P.P.S. Your name and email address is retained solely for the purpose of sending you notifications of improvements and upgrades of your Toolkit purchase. We never sell or share your email information with anyone.