Thank You For Registering
for the Forearm Pain E-Class
You are about to begin an amazing journey. Learning how to control your body's responses to strain and injury can help keep you pain free for the rest of your life.
You have been sent a confirmation email. Responding to this email will automatically trigger the delivery of your first lesson. No point in putting off the healing, is there? So look for this email in your Inbox, click the link contained in it and enjoy your first lesson in freedom from forearm pain!
The E-Class will guide you on the principles of the Butler Rapid Fascia Release technique. Mastering this technique will bring you the fastest possible relief from your pain.
To give you many terrific options for stretches to try using the Butler Rapid Fascia Release technique, I highly recommend that you invest in a copy of my original book, Conquering Carpal Tunnel Syndrome and Other Repetitive Strain Injuries: A Self Care Program. In it, you will find stretching suggestions for all the areas of your body where you are experiencing pain. Simply apply the Rapid Fascia Release technique to the stretches that match your case for a really effective recovery.
To order your own copy of the book, simply visit this page:
https://www.newharbinger.com/conquering-carpal-tunnel-syndrome-and-other-repetitive-strain-injuries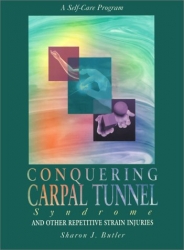 I wish you great success on your healing journey. Now, let's begin!