Tendonitis Anatomy
Tendonitis anatomy is very interesting. Tendons are made up of fascia that contains collagen fibers, white and yellow fibers that are inelastic strands providing the strong, strap-like characteristics of tendons, and ground substance that is dependent on the level of hydration in the body. There are only a few elastic fibers present in tendons which are a remnant of the elasticity this same tissue had when it passed through the muscles.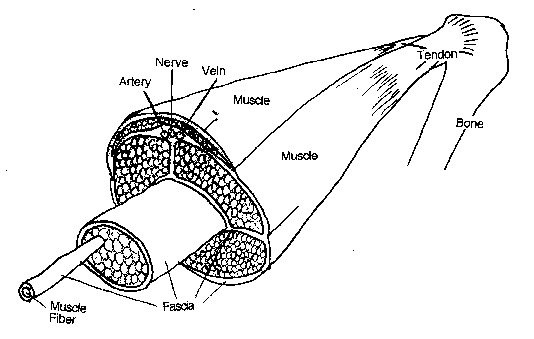 For our purposes in this section, the illustration that appears in the section on Fascia is repeated here because it is a great representation of how muscle, fascia and tendon are related.
As you can see, muscles are composed of muscle fibers that are each wrapped in a tight sheath of connective tissue known as fascia. Bundles of muscle fibers are then over wrapped with a slightly thicker layer of fascia, then bundles of bundles are similarly wrapped with fascia and then the total muscle is wrapped again with another layer of fascia. As the muscle nears its end at a bone, the size and number of muscle fibers significantly decreases, narrowing the circumference of the muscle, but the fascia that has been wrapping those muscle fibers continues, becoming the tendon that attaches the muscle to bone.
The job of tendons is to transmit movement from the muscle to the bone. This results in motion through a joint, making the wrist or elbow bend, flex, tilt or extend.
Tendons have no ability to stretch and are strong straps that attach muscle to bone in the strongest way possible, having a tensile strength of over 1000 pounds per square inch which is stronger than steel. That's a lot of pull on the bones they are attached to!
With a little bit of imagination, you can see how constant contraction of the muscles, which shortens the overall length of the muscles, creates a constant pull on the tendon as it attaches to bone. When this strain becomes chronic, tendonitis is the result. Similarly, when that strain is reduced or eliminated, the source of strain disappears, the muscle relaxes and the tendon has the opportunity to heal from the effects of constant pulling.
To learn more about Tendonitis, visit the following sections:
Tendonitis Symptoms

Tendonitis Self Care
Do you need professional help to get rid of your tendon pain? Check out my Tendonitis Self Care Toolkit.


Tendonitis Self Care Toolkit - Click Image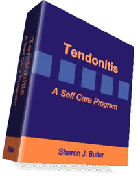 The Tendonitis Self Care Program is a six week stretching program designed to relieve the cause of the strain on your tendons, getting you back to normal as quickly as possible. It also covers ergonomics, body mechanics, unconscious habits that contribute to strain and tips and hints to remain pain free for years to come. It's guaranteed to help or your money back!
If you would like to learn about another repetitive strain injury, then return to the Home Page.